Virginia Personal Injury Lawyer
Virginia Accident and Injury Lawyer | Virginia Car Accident Lawyer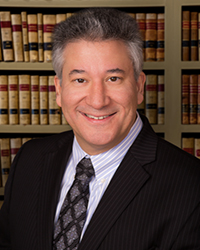 Sidney Schupak
In recognition of his hard work and success, Sidney Schupak is ranked as one of the "Top Trial Lawyers in America " by the Million Dollar Advocates Forum, and was rated by other attorneys as a Martindale Hubbell "AV" Lawyer, the highest possible professional and ethical rating an attorney can receive. Mr. Schupak graduated with honors from the American University College of Law in 1991 and currently sits on the Board of Governors of the Trial Lawyers Association of Metropolitan Washington. D.C.
Mr. Schupak has earned his outstanding reputation by consistently achieving excellent results for his clients, including numerous record setting multi -million-dollar jury verdicts and settlements. Examples of these are as follows:
$44 million medical malpractice jury verdict in Maryland in 2016, believed to be one of the largest such verdicts in the history of the State.
$14 million medical malpractice jury verdict in the District Columbia in 2019, believed to be one of the largest such verdicts in the history of that city.
$1.6 million medical malpractice jury verdict in Rockingham County, Virginia in 2019, believed to be one of the largest such verdicts in the history of that County.
$10 million settlement from the District of Columbia for debilitating injuries suffered by a baby cared for in a broken foster care system, one of the largest personal injury settlements against the District of Columbia.
$1.2 million medical malpractice settlement in Virginia for a patient who was injured during a procedure to implant a feeding tube.
$5 million jury verdict in Prince George's County, Maryland for a man injured by a drunk driver.
The "Verdicts & Settlements" page of this website has more examples of cases that Mr. Schupak has successfully handled for his clients.
These results come from hard work, preparation, experience and Mr. Schupak's willingness to commit whatever time and resources are necessary to get the best results possible. Mr. Schupak cares passionately about making a difference in the lives of the clients he represents and works tirelessly to make sure that the representation they get is unsurpassed by any law firm or attorney anywhere. He believes strongly in the rights of the individual, having spent his entire professional career successfully representing individuals against powerful and wealthy corporate defendants.
Mr. Schupak is able to negotiate settlements in over 95% of his cases but is always ready, willing, and able to take a case to trial if the insurance company refuses to make a reasonable settlement offer.
Please be aware there are legal time limitations for pursuing all personal injury cases, so please contact Mr. Schupak today for a free consultation regardless of whether you are located in Virginia, the District of Columbia or Maryland.
All types of personal injury cases are accepted, including:
Slip and fall cases
Dangerous Conditions on Property
Mr. Schupak handles all of his personal injury cases on a contingency-fee basis, which means he will advance the costs of pursuing your case and he will not charge you a legal fee unless he recovers compensation for you.
If you have suffered a personal injury of any type in Virginia, the District of Columbia, Maryland, or any other state, call Mr. Schupak at 703-491-7070 (Virginia) for a free consultation.